Mörk Borg - Map of the Known World
UPDATE: A Screen Versions of the Base Maps are available as demos.

The Map of the Known World is a game asset for the Rules Light TTRPG MÖRK BORG.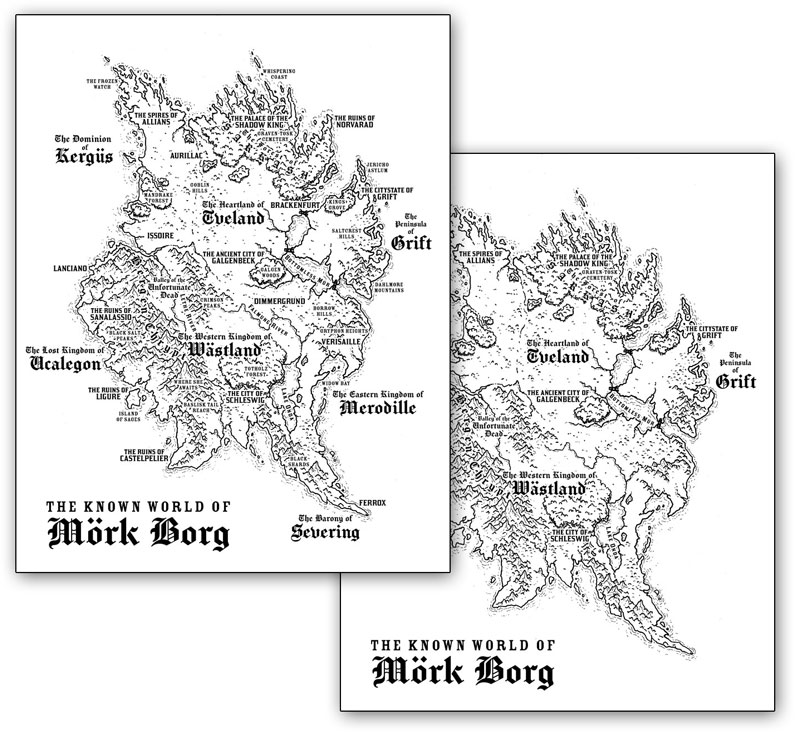 The Known World of Mörk Borg
Each game evolves at the table, where we congregate to celebrate the victory of Nechrubel over the Li... I mean, where we explore the dying Wörld of Mörk Borg. The spartan information from the book is a blessing, which gives us freedom to expand the lore of the world as we keep exploring and dying in it.

This map was created to help the GM, to fill the world of Mörk Borg with more details and mysteries for their players to unearth.
Inside this package you will find:
An Expanded Map with many new locations to explore.
A Classic Map with only the locations named in the Core Rulebook.
A PSD file to edit the Map yourself.
You can find the Minimal Rules for MÖRK BORG here:
The Map of the Known World is an independent production by Vandel J. Arden of Arden Games and is not affiliated with Ockult Örtmästare Games or Stockholm Kartell. It is published under the MÖRK BORG Third Party License.

MÖRK BORG is copyright Ockult Örtmästare Games and Stockholm Kartell.

Copyright © 2021 Arden Games

Purchase
In order to download this Map you must purchase it at or above the minimum price of $3 USD. You will get access to the following files:
MörkBorg_Map_Classic_01.jpg
3 MB
MörkBorg_Map_Extended_01.jpg
4 MB
MörkBorg_Map_OPEN_FILE.psd
46 MB
MörkBorg_Map_BLANK.jpg
3 MB
Download demo
Comments
Log in with itch.io to leave a comment.
So the screen versions of the maps are available as demos now. Also a new Blank version of the map.
Will you be offering Community copies of the maps? Thanks.
only 1 sale away from the updated maps 🤩
Hi Vandel! Do you think to create an hex map? If I buy it now, do I will have access to new maps that you create after?
yess and yes. New maps will be linked in this account. And a hex version will also come.
New additional maps are incoming soon.
Are there still new maps incoming?
This is awesome but...
There needs to be an interactive map that is set up with all 3rd party work involved in each area.