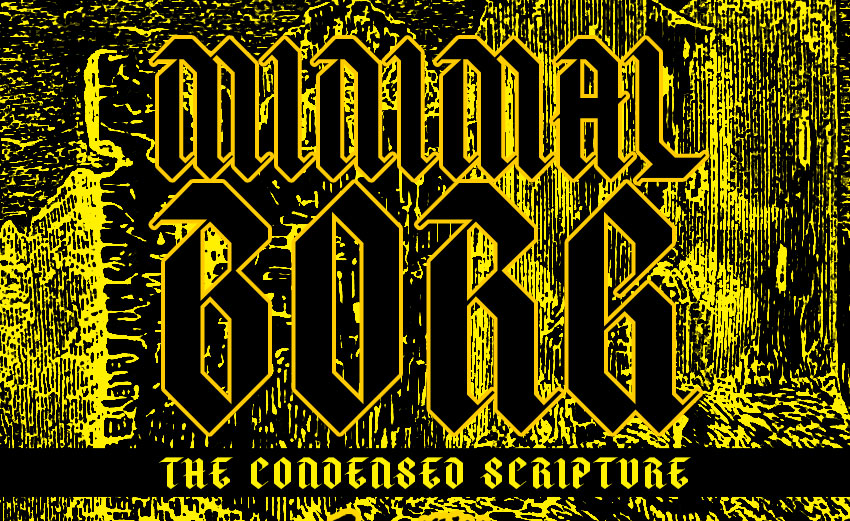 MINIMAL BORG - The Condensed Scripture
ATTENTION: New version of Minimal Borg is out and has its own entry here:


The darkness is falling, and the shards of the heaven is littering the barren lands of The Known World of MÖRK BORG. Yet there is still time to discover new secrets and horrors, till the end is nigh.

MINIMAL BORG - The Condensed Scripture, is an alternative take on the entire MÖRK BORG rules, with some alternative classes. To play, you will still need the regular rulebook for Scrolls, Items and so on. But I will continue to expand this document, as my own player group dives more into the depths of MÖRK BORG.

Recommendations:

For your further enjoyment, most material I create have some minor tie ins with the excellent work of NEWYEAR STUDIOS, which is enriching my own round of MÖRK BORG (I am actually running Alex's Box of Shadows campaign with Bridges of Mur)

MINIMAL BORG is an independent production by Vandel J. Arden of Arden Games and is not affiliated with Ockult Örtmästare Games or Stockholm Kartell. It is published under the MÖRK BORG Third Party License.
MÖRK BORG is copyright Ockult Örtmästare Games and Stockholm Kartell. Copyright © 2021 Arden Games
Download
Click download now to get access to the following files:
MÖRK BORG MINIMAL_Alternative.pdf
60 kB
Mörk Borg - The Grim Age - Base Rules.pdf
61 kB
Comments
Log in with itch.io to leave a comment.
holy moly, someone just paid 100$ 😆
now i really should do an update 😊
It was my contribution as per our exchanges, because I'll be printing a copy of Minimal Borg to put in my 300 kickstarted zines so as to make it playable even for people without the Mörk Borg book :).

What are supposed to be Gutter Scrolls? I think in my zine I will say that if people are using your rules, they should take Tablets of Ochre Obscurity instead for the power inside the scroll.

Hi! I really want to talk to you about a collab, I'd like to include your Minimal Borg as an extra reward to all my physical backers. It would be without charges to them and I already bought at the recommanded price your hack, but could contribute more if you prefer.

I think Minimal Borg is good way for people who don't have the rules of Mörk Borg or are still not very familiar with them to be introduced to the game.

I'd like to announce it in my next update, which should be tomorrow, or for my end-of-campaign message next Tuesday. You can also find me on Facebook if you prefer private messages (and then I can delete that one) https://www.kickstarter.com/projects/igiul-pizzinu/chasse-galerie

Sure no problem as long as you attribute it to me and include a link to my itch page.
Also funny thing is that today I update my rules :D
Haha yes, eager to check that too! Thanks, of course I'll attribute it, but I think there is no signature in Minimal Borg, maybe I'll have to add a letter with it explaining what it is and pointing to your itch. Also, you can write to me in private, I could send you a couple zines, at least. Anyways, thanks again and take care :)
Also, there is a typo with the preacher on Powers vs Omens :)
Just what I was looking for. Thanks.
This is awesome! Also, thanks so much for the shout out!